The Cost of Living Calculator
The Nantucket Data Platform (NDP) has launched an online tool that measures the true cost of living on Nantucket, in real dollars. With the Cost of Living Calculator, NDP set out to answer two pressing questions: How much does it cost to live on Nantucket? How does Nantucket's cost of living compare to other communities?
1. Interactive features allow users to calculate the cost of living for households of different sizes on Nantucket and to compare these costs to counties across the US.

2. The Cost of Living Calculator can help all employers understand what a living wage is on Nantucket and it allows prospective residents to accurately anticipate cost of living.

3. Our tool addresses several critical gaps found in other cost of living tools. For example, it accounts for all types of transportation costs, not just car ownership, as well as factors such as childcare, taxation, and local food costs.

4. Dollar-based estimates are generated instead of an index, which allows for a more immediate and visceral connection to the findings.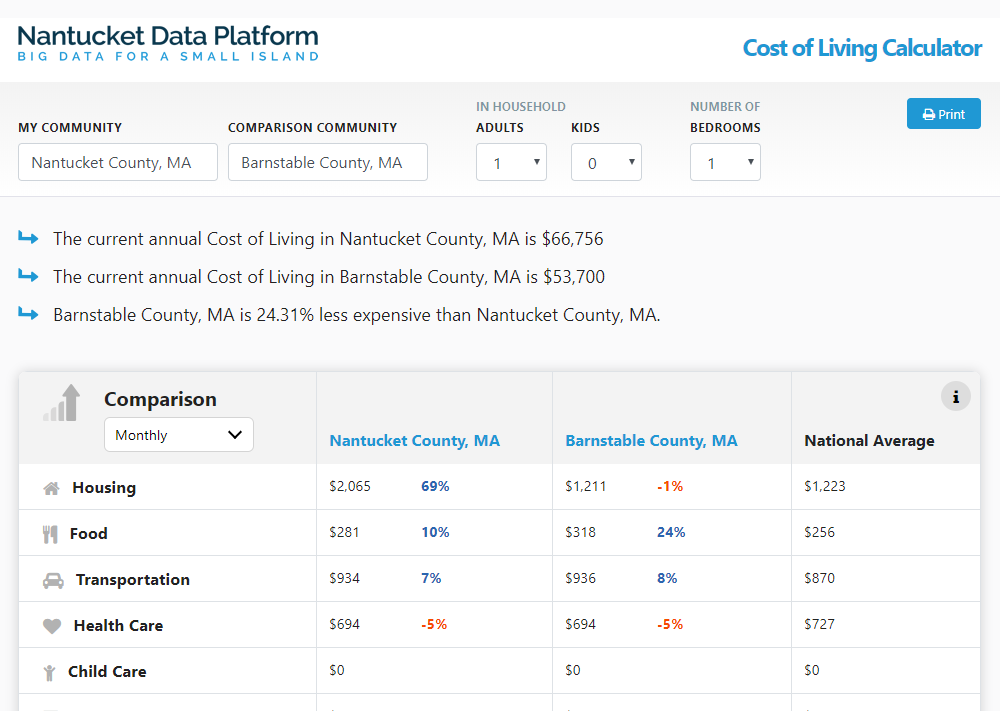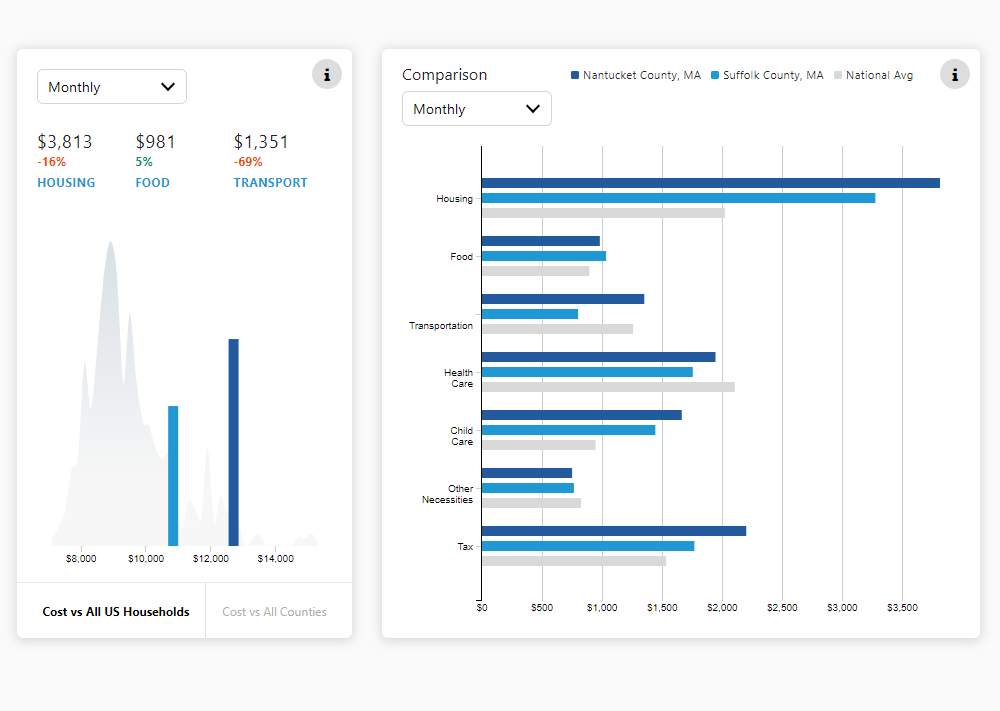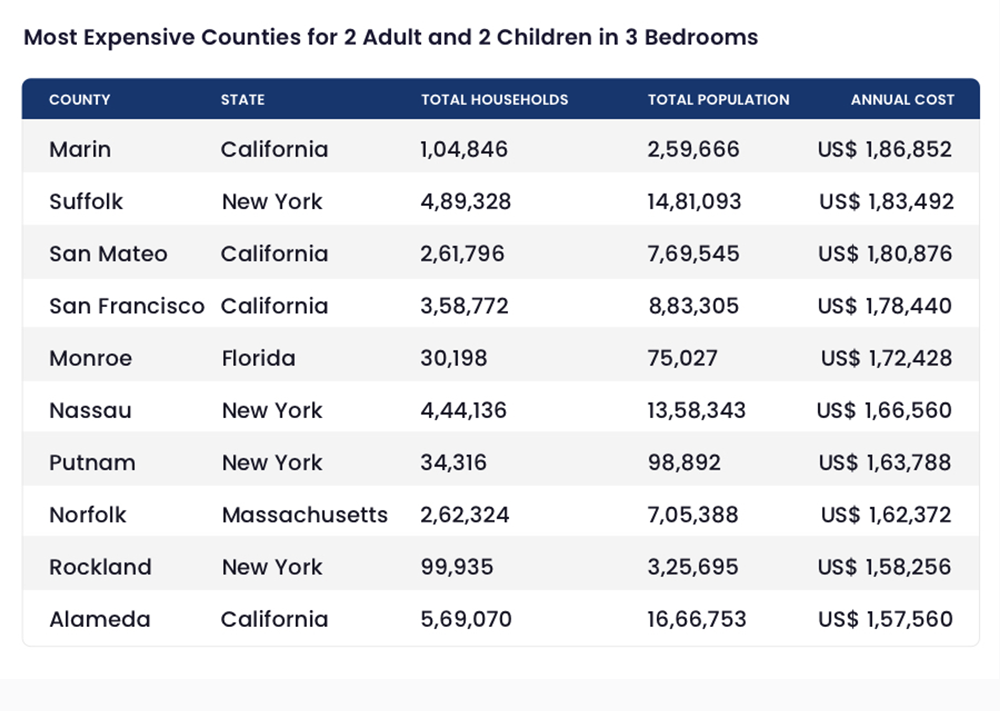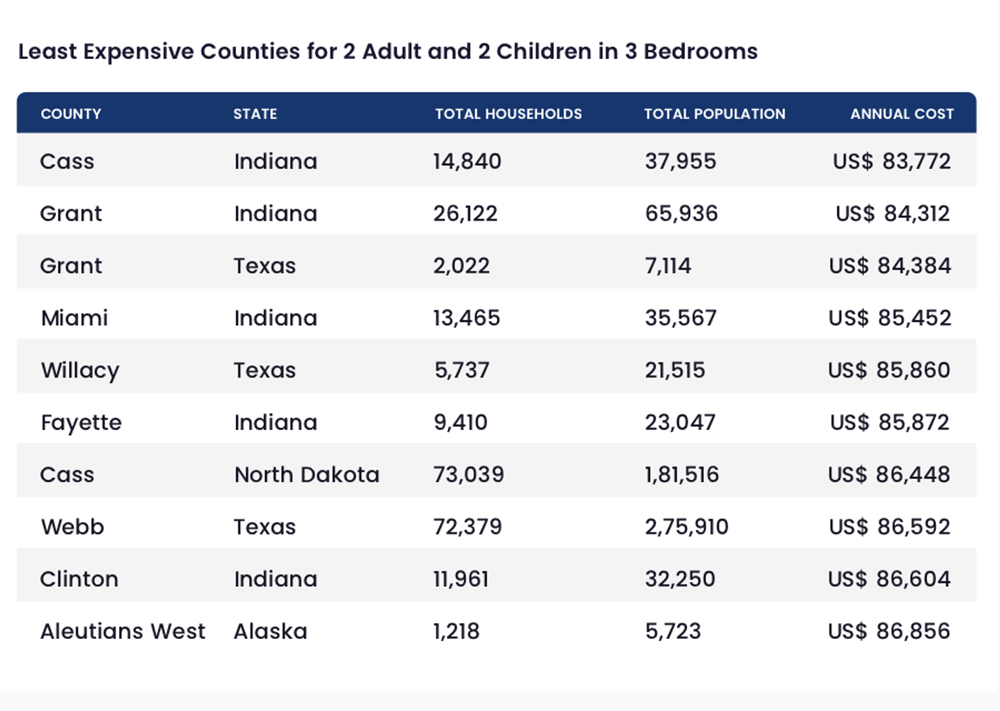 Here are examples of the Cost of Living Calculator in action:
Complete the form below to request access to the Cost of Living Calculator
The Island Life Survey
The Nantucket Data Platform (NDP) created the Island Life Survey (ILS) to generate valuable and compelling insights into Nantucket's community and values.
1. NDP's team of survey experts followed industry best practices and evidence from social science research at every step of the way

2. The survey addressed important Nantucket issues, including the community, diversity, jobs and work, shopping and commerce, transportation and other infrastructure, citizen engagement and local government, and community challenges.

3. Survey responses were weighted to the broader Nantucket population, which provided an understanding of not only the survey respondents but also the island's year-round population as a whole.
Data Visualizations of Findings
Top Reasons People Move to Nantucket and Stay on Nantucket
View
Reasons people consider moving off-island
View
Nantucket values local businesses
View
Nantucket has high levels of civic engagement and participation in local government
View
Opinions on transportation & infrastructure
View
Opinions on work & business
View
Biggest areas of difference by gender
View
Opinions about the Nantucket community
View
Watch the video about our Survey Panel Demographics
Watch
Nonprofit / ReMain Nantucket
Effective Population Study
Delivered version 1.0 of an effective population study entitled, "Making It Count." This effort merges public and private data, including trip-level data from ferries and airlines, with ground-breaking data science.  It offers a detailed portrait of daily changes in the island's population. Highlights:
Nantucket's permanent population is 17,200, which means the official U.S. Census estimate misses 5,600 islanders.
Seasonal residents would add another 11,000 at 100 percent occupancy (although this almost never happens).
Nantucket has at least 365 year-round commuting workers and 6,600 seasonal workers in July.
We also counted 500,000 visitor-trips to the island in 2017, including 100,000 in August alone.
Government / Nantucket Memorial Airport
Finding New In-demand Air Routes
Analyzed mobility data to determine the most underserved air routes.  (The answer is Philadelphia).
Government / Finance Department
Building a Predictive Dashboard
Producing V2 of a "finance dashboard" that tracks leading economic indicators for budget planning.
Government / Planning Department
Validating Permanent Population for 2020 Census
Complex address matching project using a variety of data sources and techniques to ensure the local address list for the 2020 Census is robust.  Additionally, NDP will support the Town's awareness campaign to assist in achieving a full count in the 2020 Census.
Government / Select Board
Developing Visualizations for Nantucket's Strategic Plan
Identifying best practices for visualizations used in the Town's strategic plan. Assisting in designing a "data dashboard" for public use.
Nonprofit / Nantucket Affordable Housing Trust
Assessing the Housing Landscape
Generating the first full picture of housing supply and demand on Nantucket, coupled with a detailed Housing Survey to provide an up-to-date picture of the housing needs, preferences, and concerns of families and individuals.
Nonprofit / ReMain Nantucket
Cost of Living Profile
Understanding the true costs of living on-island and developing key insights into the implications that has on the Nantucket community.
Nonprofit / ReMain Nantucket
Community Survey Panel
The panel gives Nantucketers a consistent way to share their knowledge and opinions about island life safely and anonymously. NDP expects the panel to become a trusted resource for sharing insights on important community topics, while also providing context and a deeper understanding of the statistics-based analyses NDP publishes on a range of topics.
Business / Nantucket Chamber of Commerce
Creating a Business Data Membership
Collaborating on a future "data membership" for Chamber members, including access to an online dashboard and data sets to help members answer key questions like these:
When they should we open and close?
What type of visitors are on the island, and when?
How do we reach visitors at their homes?
How do we identify loyal seasonal residents?